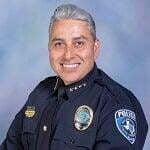 Message from the President
It is a tremendous honor to be selected to serve as President of the Houston Area Police Chiefs Association (HAPCA). This organization has been a blessing to me in my professional development. I look forward to serving the members of HAPCA to the best of my ability and with the support of our exceptionally talented and experienced executive board. HAPCA is poised to play a crucial role in helping advance public safety in the greater Harris County area this year and for years to come. As police departments continue to encounter new challenges and demand for police reform, it is more important than ever that we leverage our members' collective knowledge and experience in our monthly meetings for the greater good of the communities we serve.
In the coming year, I want to reaffirm the board's commitment to bringing quality speakers to help provide important educational and informative information for the benefit of our members. I hope you will each find the time in your hectic schedules to attend our monthly luncheons because our association's strength comes from your participation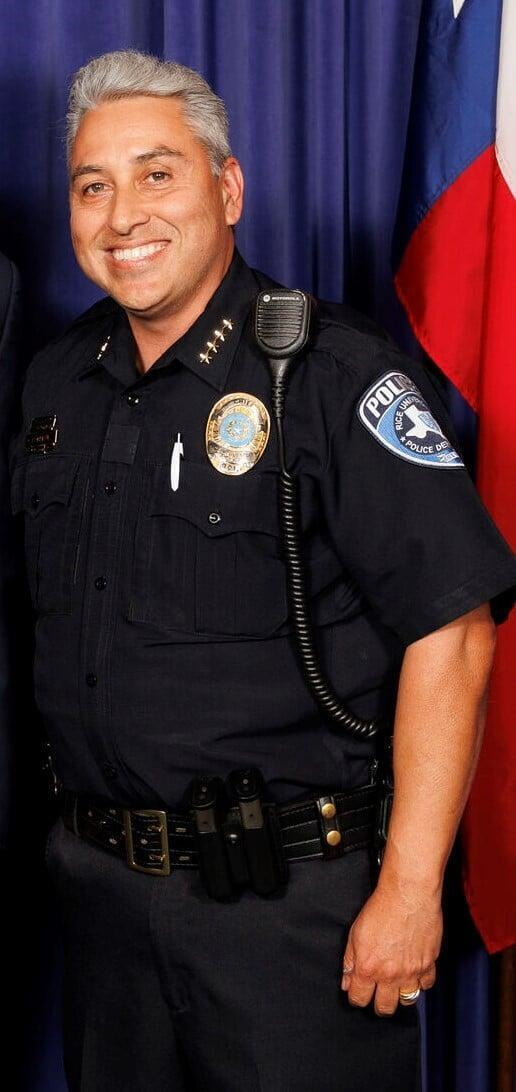 Clemente Rodriguez -President
Rice University

Chief Clemente Rodriguez has over 20 years of police experience, including more than 16 years of experience in progressive supervision. Chief Rodriguez began his law enforcement career at Rice University in 2001 as a patrol officer. Chief Rodriguez was promoted to Police Sergeant in 2003 where he oversaw tours in patrol and training. In
2011, Chief Rodriguez was promoted to Police Captain. During his tenure as Police Captain, Chief Rodriguez was instrumental in developing department policies and procedures, managing all Clery Compliance for the department, as well as overseeing Patrol Operations, Support Operations, Training, and Special Events, Rice Emergency Medical Services, and Open Records.

Chief Rodriguez holds a Bachelor's Degree in Criminal Justice from the University of Houston Downtown and a Master's Degree in Criminal Justice Leadership and Management from Sam Houston State University.

Chief Rodriguez was promoted to Chief of Police/Director of Public Safety for the Rice University Police Department on January 16, 2020.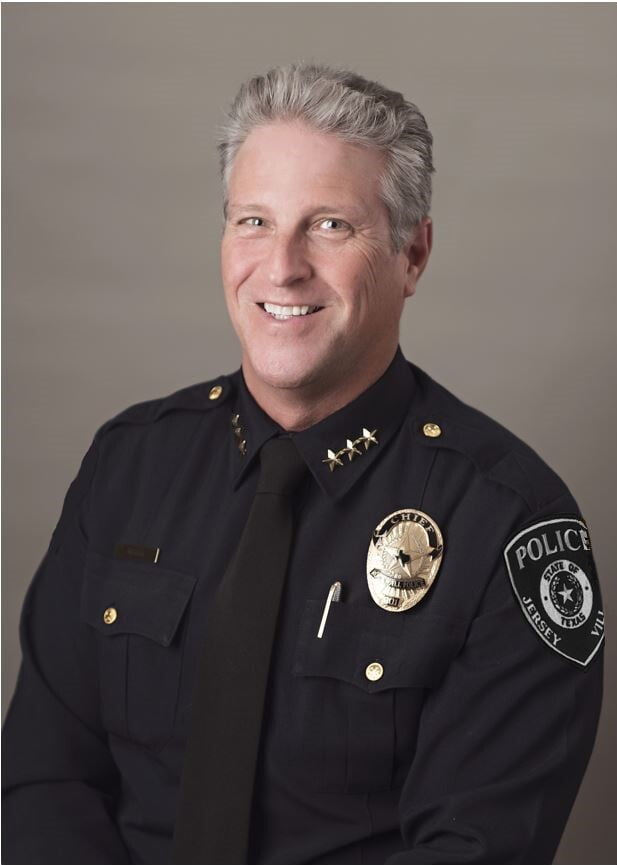 Kirk Riggs, Vice President
Jersey Village Police Department

Chief Kirk Riggs started his law enforcement career with the Dublin Police Department in January 1979 where he became a sergeant before leaving to join the Farmers Branch Police Department in March of 1981. During his 25 years of service with the Farmers Branch Police Department he worked in many different assigned positions including narcotics, internal affairs, and was a SWAT operator and Commander.

He moved through the ranks and retired as Deputy Chief over Support Services on April 25, 2006, to accept the Assistant Chief position for the Rockwall Police Department on May 1, 2006. On July 17, 2015 he was appointed as the fifth chief for the Rockwall Police department and retired in July 2019, but stayed on as an advisor until they found his replacement. He took the Interim Chief Job with the City of Jersey Village in November 2019 and was appointed as the department's new chief on March 1, 2020.

He received his Bachelor of Science in Management and Ethics from Dallas Christian College. Chief Riggs has also completed executive leadership courses sponsored by The Institute for Law Enforcement Administration (ILEA), Leadership Command College of the Law Enforcement Management Institute of Texas (LEMIT), and attended the 209th Session of the FBI National Academy in Quantico, Virginia. He served on committees for the Texas Police Chiefs Association, and on the Executive Board of the North Texas Police Chiefs Association. He is a Life Member of IACP and TPCA.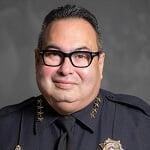 Paul Cordova - Secretary
Aldine ISD Police Department

Chief Paul Córdova began his law enforcement career in 1982 at the Harris County Sheriff's Office. While at the Sheriff's Office, Córdova worked as a Deputy, Detective, Sergeant, Lieutenant, and Senior Captain. Córdova fulfilled numerous assignments, including investigations, emergency management, and homeland security. As a patrol commander, he managed two large districts in the west and northeast of Harris County, including areas of Aldine ISD. While in the Homeland Security Bureau, Córdova experienced many firsts. He led the first Harris County SWAT Team, Hostage Negotiation Team, and Security Monitoring Assessment Group. He also oversaw significant growth of the Marine Unit and the Aviation Unit, adding the first fully equipped police helicopter and numerous patrol boats to help secure the Port of Houston in cooperation with the United States Coast Guard.
Cordova holds a Master Peace Officer certification, Master Jailer certification, Crime Prevention certification and a Police Instructor certification with TCOLE. He holds a Bachelor of Science and a Master of Science degree in Criminal Justice from Sam Houston State University. Córdova is also a graduate of the FBI National Academy and the Leadership Command College of the Law Enforcement Management Institute of Texas. Chief Córdova is a member of the International Association of Chiefs of Police, the FBI National Academy Association, Texas Police Chief's Association, Houston Area Chiefs of Police Association, the Texas School District Police Chief's Association, and the National Organization of Black Law Enforcement Executives. He is also a Life Member of The 100 Club of Houston.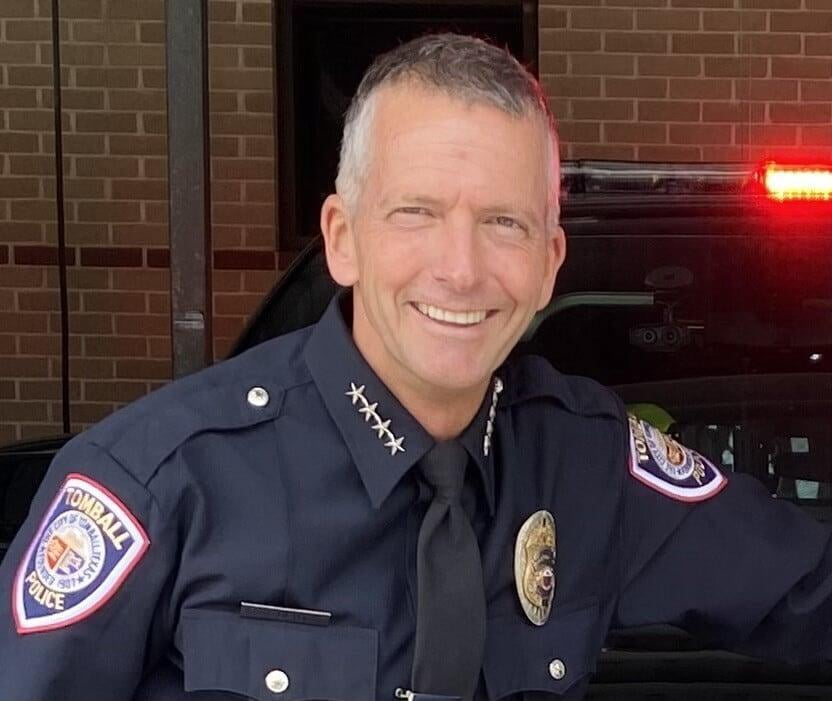 Jeff Bert-Treasurer
Tom Ball Police Department
Chief Jeff Bert began his law enforcement career with the Los Angeles Police Department in 1996. He served the residents of Los Angeles for the next 24 years working a variety of operational, investigative, and administrative assignments. Chief Bert wrote the Strategic Plan and a variety of policies that continue to guide the men and women of the LAPD. As a Police Commander in charge of Community Policing, Jeff professionalized and expanded youth programs, working with underprivileged youth to ensure they had access to after-school activities, tutoring, and college scholarships. He retired in June 2020 as the Department Risk Manager.
In July 2020, Jeff became the Chief of Police for the City of Tomball. His greatest honor is working with a team of dedicated officers and civilians who protect and serve the city of Tomball. Chief Bert lives in Tomball with his wife, Stacy. They have four incredible daughters and way too many cats and dogs.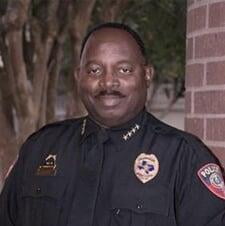 Solomon Cook

-
Humble ISD


Solomon Cook, current Chief of Police for Humble ISD, began his law enforcement career in 1976. In his forty-two years of tenure in law enforcement, Chief Cook has worked for municipalities, county, and state agencies. Chief Cook served as Police Captain for Humble ISD from 1996 to 2003 before becoming the Chief of Police for Humble ISD in 2004.





Chief Cook earned his Bachelor's Degree of Science in Criminal Justice from Southwest University, is a graduate of the FBI Command College and the FBI - LEEDA Trilogy Award recipient. His certifications and licenses include a Master Peace Officer Certification, Police Instructor, Crime Prevention Instructor, Firearms Instructor, Less lethal tactics Instructor, Defensive Tactics Instructor, ALERRT Instructor and Arson Investigations Certification.

Chief Cook has served as president for the Houston Area Police Chief Association, and currently serves as the Houston Area Police Chief Representative to the Texas Police Chief Association's Executive Board. He is also the President for the Texas School District Police Chief Association. In June of 2015, Chief Cook was asked to Chair the committee on the House Bill 2684, which pertains to the adoption of training for school district police officers.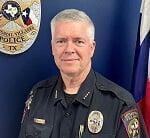 Ray Schultz - Past President
Memorial Village Police Department

Chief Ray Schultz is a 36-year veteran of Law Enforcement. Ray started his Law Enforcement career in 1982 working for the Albuquerque, New Mexico Police Department. Chief Schutz worked his way up through the ranks of the department in assignments that included; Patrol, DWI Traffic Enforcement Officer, K-9 Handler, Professional Standards, the Crime Laboratory, the Police Academy, Records and the Field Services Bureau. Chief Schultz retired while holding the rank of Deputy Chief in 2003 and moved to Scottsdale, Arizona where he was an Assistant Chief in Charge of Investigations. In 2005, Chief Schultz was asked to return to Albuquerque and assume the position of Chief of Police. From 2005 until 2013 Chief Schultz oversaw the 1600 employee organization and led the department to historic 20-year lows in most crime categories. Chief Schultz initiated several new cutting edge technologies that included the creation of one of the nation's premiere Real Time Crime Centers. During his tenure, the Department also was awarded several of the International Association Chiefs of Police top awards that included, the Weber Seavey and Michael Shanahan Awards.
In 2015, Chief Schultz came to work for the Memorial Villages Police Department and assumed the position of Chief in March of 2017. Chief Schultz is a graduate of the FBI National Academy, The FBI National Executive Institute and the Northwest Law Enforcement Executive Command College program.

He is married and has 3 children and 3 grandchildren.